Pure cacao from Nicaragua
The cacao that we fell in love with in Nicaragua grows in the Matagalpa region, a beautiful natural environment in the mountains. There are many cloud forests in this area with a high diversity of birds and other animals.
Organic farming
No chemicals or pesticides are used and fair prices are paid to the farmers for the quality that they deliver to support their sustainable way of working.
We visit the farms personally and agree on every step from bean to paste to ensure the highest quality.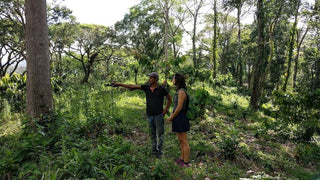 The cacao farm is like a forest with high biodiversity.
High quality fermentation
High quality fermentation creates an exquisite taste with deep complex flavors. Fermenting cacao is an art and we're grateful to work with professionals to create a product that we're proud of and want to use every day ourselves.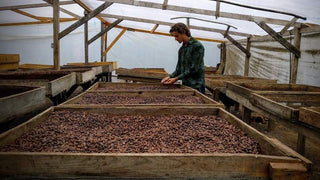 The cacao is laid out at drying decks after fermentation.
A natural product that we're proud of
The cacao beans are heated shortly at low temperature to clean and remove te husks. This preserves the taste and healthy nutrients. Stone grinding ensures a fine cacao paste that dissolves well in a drink with a smooth flavor. Too short grinding and the cacao does not dissolve well and too long grinding looses active compounds. We noticed that processing the cacao as little as possible creates a quicker and stronger effect. It seems easier for your body to uptake all its active compounds in a cacao drink. In this way we try to care for the cacao the best way as possible and provide the finest product.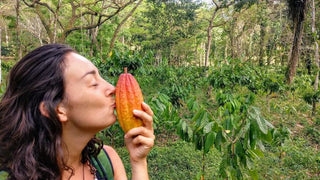 Leonie totally fell in love with this cacao pod.