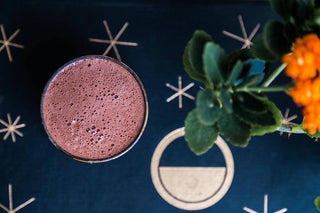 How this adventure started for us
Through journeys in South and Central America we got first experience with pure cacao drinks. And it has been impressive. Before, we only knew cacao as the ingredient for chocolate or chocolate milk. Apart from the health benefits, less is known about its tradition as a sacred plant. We learned how cacao as an ingredient for most chocolate is highly processed for taste, costs and derivative products. This processing destroys healthy and active ingredients which make cacao so special. Experiencing the power of pure cacao added a whole new view. An experience we love to share.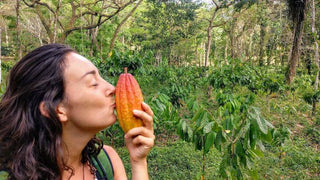 Our goals are to
⬖ Bring back traditional cacao drinks to daily life. 
⬖ Support agroforestry farming, ecology and biodiversity. 
⬖ Create transparency and fairness in the supply chain. 
⬖ Bridge spirituality and science for healthy living.
We want to share our passion and experience, and explore further why many native people valued cacao so highly. The Mayans used the word 'kakaw' which we use in our name with respect to a time when cacao flourished in culture and spirit. We feel it is time again to experience how cacao can support us in a happy, healthy and positive life.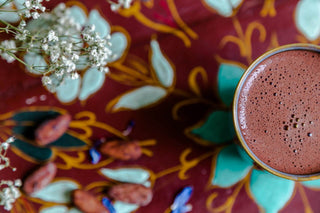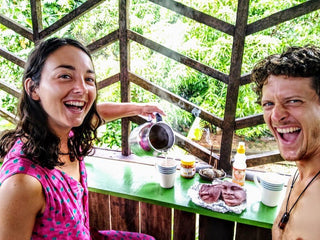 Hello to you
Let us quickly introduce ourselves. Our names are Erik & Leonie. We started the Pure Kakaw project because of our fascination of the effects that cacao has on our body and mind. Our base is in Amsterdam but you can often find us exploring different corners of this world. Leonie is a yoga teacher and combines cacao with yoga, meditation and breathing exercises. Erik loves the jungle, complex ecosystems and searching high-quality cacao at agroforestry farms. For us a cacao drink does not start with the beans, but the soil and ecosystem where it grows.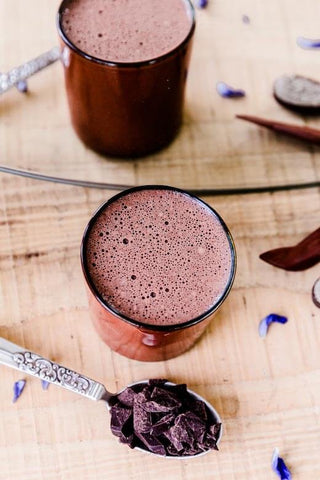 Connect
In modern times we search connection to (our) nature, which can be a challenge living in cities and being surrounded by technology. We see more and more people exploring ways to connect with themselves and each other; have a meaningful impact on the world; and want to live a healthy life. For us cacao supports us in doing so. Whether you use it for spiritual purposes, meditation, deepen practices like yoga, creativity, focus for work or just want to eat healthily.
Official partner of Trees for All
Nature and its protection are important to us and lie at the core of Pure Kakaw. In short: our planet just needs more trees! Next to sourcing from food forests and agroforestry farms we want to contribute to protection and expansion of forests, wildlife, biodiversity and reduce our climate impact. 🦋
Via Trees for All, we financially support two projects:
⬖ Planting trees to restore rainforest & wildlife areas in Costa Rica.
⬖ Planting trees to restore forest & support sustainable agriculture at the foothills of the Andes in Bolivia.
Technically this (over)compensates our CO2 emissions, but most importantly we contribute to more trees, re-forestation, and protection of valuable natural areas. It is one of the ways we try to take responsibility and contribute to a healthy planet.
Pure Kakaw is registered in the Netherlands under Chamber of Commerce nr: 84616733
De Clercqstraat 123, 1053AK, Amsterdam