Pure cacao from Guatemala
Guatemala has a long cacao tradition that is still present in Mayan communities. We are grateful to collaborate with farmers who grow and process cacao with the intention to make traditional cacao drinks. Instead of focusing on increasing yield they focus on biodynamic farming and supporting the cacao trees with their natural environment.
Organic farming and agroforestry
The farm lies a beautiful mountain region in Alta Verapaz surrounded by Mayan villages. The cacao grows in the shade of reforested trees and a natural ecosystem with a high diversity of plants and animals. Besides cacao you can find a great diversity of fruit and spices growing here which makes it an even greater pleasure to visit these lands. Beronica explains about the harvest, processing, social part and the rich biodiversity in this video below.
Inspiring about the farm is that the cacao is grown in its most natural way. Cacao is a shadow tree and thrives in food forests. On many plantations cacao and other fruit trees are grafted to ensure the genetics. This is a form of genetic copying to avoid diversity and increase production. The cacao trees are grown from seed by hand selection to increase the native criollo variety. They are actively engaged in protecting this endangered heritage of trees.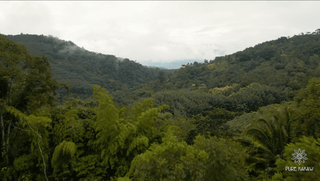 The beautiful mountainous area of Alta Verapaz. The cacao farm is a food forest at the same time.
Traditional processing
Cacao is processed to a paste so it can be prepared (and dissolved) in drinks. At this beautiful farm the cacao is processed with traditional knowledge in a modern clean environment. After fermentation and drying, the beans are hand selected on quality and then roasted on a clay comal. The ceremonial grade cacao is stoneground, preserving all healthy and active nutrients.
The beans are hand selected and only the highest quality is used for these cacao drinks.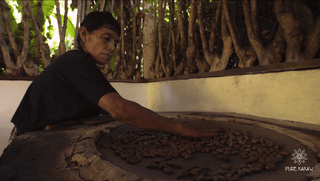 The cacao is shortly roasted on a traditional clay comal.
Criollo cacao tree grown from seed with happy cacao fruits.
We are grateful that we can share this high-quality cacao from this beautiful origin through a heartfelt collaboration. Read more about the people behind this cacao in these blog stories.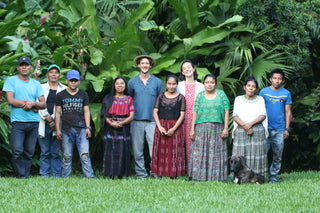 Farming and preparing cacao is a lot of work and this needs many skilled people in the whole process. The hard work on the land is done by men. The more...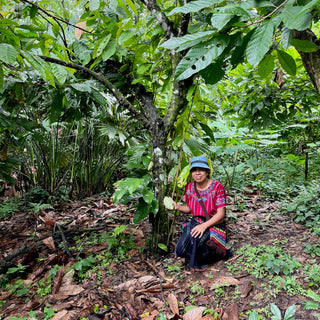 Beronica is a real cacao warrior. She learned working with cacao and the dynamics of growing food from her grandmother (abuela) from a young age. She now applies all this...